Structural engineers often have to write their own checks to solve daily problem. Results from structural analysis, like internal forces, are copied manually which is both inefficient and error-prone.
With Scia Engineer 14, engineers can finally integrate all their external checks into one workflow, as well as customize their FEA software to support all the checks their firm may need.
The webinar will give you an overview of the new version, with:
Open Design with Design Forms
Write your own calculations
Link them to Scia Engineer to increase productivity and reduce mistakes
Include Design forms output in the Engineering Report
Core Analysis improvements
Faster, more accurate meshing thanks to automatic mesh refinements
Detailed 3D display of displacements and stresses
Singularity check to identify and view mechanisms in the model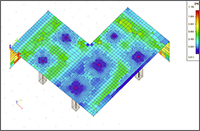 Improved Usability for Day-to-Day
Templates in the Engineering Report
New results table for more comfortable handling of numerical results
And that's only the beginning…

Duration: 1h
When: on Friday, May 16th 2014, 2.00 to 3.00 PM CET.
Your Nemetschek Scia team