CAD + Structural Analysis = A Faster Way to Design Industrial Structures
As projects become more complex and project timelines compressed structural engineers needs to be fast and efficient, but also not restrictive. To get their work done engineers using traditional structural software like RISA and STAAD, have had to establish elaborate workarounds or worse find it faster to model in CAD and then import files for analysis and design.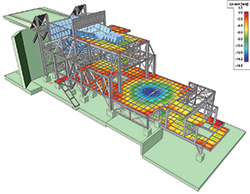 This webinar will explore the advantages of SCIA Engineer, for modeling typical and complex industrial structures found in power, process, and material handling. You will learn:
The advantages you gain by having robust CAD capabilities inside your 3D structural design program
How modeling with physical members, grids and stories makes modeling fast and efficient
How easy it is to sketch in 1D members and model, analyze and design complex shell and plate elements
The benefits of being able to quickly define load combinations and apply loads to complex geometries
How to easily write your own custom checks to expand your FEA design workflow
How to put together clear, readable calculations reports

Receive a certificate of attendance for PDH credit.
If you want to unsubscribe click here.