FREE "BIM Toolbox" with each new license!
Scia has been a long-time pioneer in supporting BIM workflows with Scia Engineer.
With its unique "BIM Toolbox", Scia Engineer provides you with the specific tools needed: a certified IFC import & export, tools to transform general solids into analytical beams and surfaces, alignment tool to create a clean analysis model and a model comparison tool to handle revisions.
During the month of June, we are happy to include this BIM Toolbox for free with each new license.
Furthermore, we add a special discount of 20% as a summer gift!


3D building design in concrete and steel

Concept Edition + free BIM Toolbox: normal price €7450 + €830

3D Steel frames, including connections

Steel Frame Package + free BIM Toolbox: normal price €7450 + €830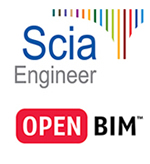 Conditions:
Prices are excl VAT, for a workstation license
Valid for all orders until the 30th of June 2015
Available for both new and existing clients
We are happy to advise you other Editions or Packages according to your specific needs.
There is already an entry-level 3D package starting at €3500.
Do not hesitate to contact me for an offer or more information.
Kind regards,
Brigitte Lognard
b.lognard@scia.be
If you want to unsubscribe click here.