What is Your Civil/Structural Engineering Software Doing and How Can You Get it to Do More?
Receive a certificate of attendance for PDH credit.
A big criticism of Civil/Structural design software is the lack of transparency in the checks these programs perform. Checks are "black boxes." Sure, you get a pass/fail result, but what does this really mean? What formulas or methods is the software using to derive the result? How can you verify the check?
And, what happens if your engineering judgment is different from what the software provides? Or, you need a check that your software doesn't support?
Register for this FREE webinar to learn how a game changing, Open Check technology is allowing engineers to:
See exactly what formulas and methods are being used to derive a check.
Easily script custom checks to extend their 3D FEA workflow.
Consolidate the number of engineering programs that firms have to use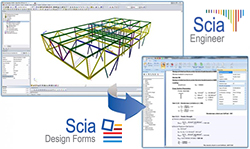 Reserve your webinar seat now!
What is Your Civil/Structural Engineering Software Doing and How Can You Get it to Do More?
Date: Tuesday, March 24, 2015
Time: 2:00 PM - 3:00 PM EST
Can't make this date? Email us, info@scia-online.com